Trio Set: African Black Soap Hair Growth Shampoo, Hair Growth Oil, and Hair Growth Conditioner
---
The Trio is the package to get you started off right with your Hair Growth Journey. Includes the Organic Hair Growth Oil (4oz) African Black Soap Hair Growth Shampoo (16oz) and Hair Growth Conditioner (16oz)
Get the Trio to fight CCCA Alopecia and Hair loss. Your scalp and Hair will thank you later.
Directions:
Shampoo and Condition 1-2xweekly. Massage Organic Hair Growth Oil on Scalp Daily.
Note: Raw African Black Soap Shampoo color May Vary depending upon soap manufacturers. Shampoo consistency is "watery" because it is organic, but it does produce suds. Please view this Video for shampoo demonstration 
https://youtu.be/feX9L55O_QM
Related Products
---
Customer Reviews
Write a Review
Ask a Question
Filter Reviews:
products
scalp
conditioner
hair
hair growth
shampoo
trio
crown
items
pictures
07/08/2020
Anonymous
United States
I recommend this product
Happiness
I look forward each week to wash day now.
07/07/2020
Nicole C.
United States
I recommend this product
Amazing
I love it. Especially the tingling feeling from both the shampoo and the conditioner. I love the fact that you really dont need a lot of shampoo for it to lather up on your scalp. Ms. Thing I give u an A+ a thousand times. Thank you so much. P.S. Please continue on doing what your doing. May God continue to bless you and your family
07/04/2020
Anonymous
United States
I recommend this product
Works Wonders
This product is amazing I haven't seen growth on my crown in years and once I started using this trio I started to see growth. Thank you so much
07/03/2020
Anonymous
United States
I recommend this product
My Journey
Love the shampoo, conditioners, growth oil and scalp cream. I can tell a positive difference already. This is my third time using the products. My scalp feels good and my hair was extremely soft and curly after the 30 minute deep conditioner with plastic cap.
06/30/2020
Danielle D.
United States
I recommend this product
Trio of Life!
This Trio plus the Holistic Scalp Cream saved my scalp. I love the way the shampoo and conditioner make my scalp and my hair feel. The Hair Growth Oil kicks it up a notch and I love the way it smells. I've literally been using this is combination with pumpkin seed oil and biotin for 2-3 weeks, the unbearable itchy scalp is almost back to normal and my patch is pretty much filled in. I have about a half inch of growth and I'm ecstatic! I got so excited, I braided my hair! Lol everything but the patch that's growing back. I'll be ordering again and again!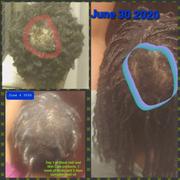 06/30/2020
Anonymous
United States
Amazing
All of these products are amazing. The shampoo is cleansing to my strands and refreshing to my scalp and the conditioner is very nourishing. The growth oil is helping me see progress in areas I hadn't seen in years.
06/28/2020
Angela T.
United States
I love it it's helping my hair grow
06/28/2020
Anonymous
United States
Natural curl pattern that I didn't know exist.
All the products that I've used thus far smell heavenly. The hair growth shampoo softened and detangled my hair. I could feel the tingling sensation as I washed my hair. The hair growth conditioner also softene my hair and left it feeling very moisturized.I was definitely impressed.
06/26/2020
Anonymous
United States
Amazing
So far the products have been great about to re-order as I'm almost out of the shampoo and conditioner.
06/26/2020
Wanda D.
United States
TRIO
It's ok..the shampoo doesn't give much to no lather when it's on my hair. Is it because it's organic? I like the oil and the conditioner
06/23/2020
Anonymous
United States
Love to wash my hair
I love the shampoo and conditioner feels great I do not see a significant change in the length of my hair from the oil. Don't know if I'm using it correctly!
06/23/2020
Anonymous
United States
Quality products
I purchased the trio set of African Black Soap Shampoo, Hair Growth Conditioner and Hair Growth Oil. I have used the 3 products together following the directions and have noticed a positive and immediate effect. I noticed that my hair and scalp feel and look so much better. I will continue using the trio of products.
06/22/2020
Sonya
United States
Trio set & leave in conditioner Wonderful Products!!!
I placed my order 6/12/20. My order arrived today 6/22/20. I was so excited when it arrived. I immediately opened it and started washing my hair. WOW!!! The shampoo... amazing it left my scalp feeling minty and fresh... The hair growth conditioner smells delicious!! After using those two products I used the leave in conditioner to style my hair. which for me is parting my hair and plaiting/braiding it. I then applied the oil all through out my scalp. I plan to use these, products as directed and consistently. I'm anxious to see the results. I have a bald spot at the crown of my head. So I wear wigs now. . I am expecting hair growth so that I feel comfortable wearing my own hair and no more wigs. I also purchased the pumpkin seed oil. I will start that tomorrow. I must say I have never used any products that has,every left my scalp feeling so fresh and clean. I especially love that all the products are organic. I will be making other purchases in the future.
06/21/2020
Anonymous
United States
Black hair
I do like the way my hair feel after using the product.
06/19/2020
Paula Q.
United Kingdom
Great products
The shampoo is too harsh for my scalp as I have a sensitive scalp so been using that once monthly but I LOVE the scalp oil and the Conditioner. I also LOVE the moisturising deep conditioner. Great products.
06/18/2020
Rosetta S.
Bahamas
My experience using blackhair products
I love the way these products make my hair feel when I use them.