Trio Set: African Black Soap Hair Growth Shampoo, Hair Growth Oil, and Hair Growth Conditioner
---
The Trio is the package to get you started off right with your Hair Growth Journey. Includes the Organic Hair Growth Oil (4oz) African Black Soap Hair Growth Shampoo (16oz) and Hair Growth Conditioner (16oz)
Get the Trio to fight CCCA Alopecia and Hair loss. Your scalp and Hair will thank you later.
Directions:
Shampoo and Condition 1-2xweekly. Massage Organic Hair Growth Oil on Scalp Daily.
Note: Raw African Black Soap Shampoo color May Vary depending upon soap manufacturers. Shampoo consistency is "watery" because it is organic, but it does produce suds. Please view this Video for shampoo demonstration 
https://youtu.be/feX9L55O_QM
Related Products
---
Customer Reviews
Write a Review
Ask a Question
Filter Reviews:
hair
products
scalp
conditioner
shampoo
trio
growth
hair growth oil
Charmaine
CCCA
09/24/2020
Cynthia R.
United States
I recommend this product
Trio
the ingredients in these products are great. I would recommend this to anyone. I love how it makes your hair feel.
09/23/2020
Judy J.
United States
Triple Treatment, a must have!
This trio is working wonders for my hair after three weeks i already can see some growth and it's making my hair more manageable and softer.
09/21/2020
Anonymous
United States
Hair Products
I sent it as a gift to someone, she loves it.
09/18/2020
Anonymous
Canada
products
I really love the conditioner. I just started using this poduct so I'm going to continue to see if I get the result that I am looking for
09/18/2020
Anonymous
United States
It is very good do you use this item I really enjoy it thanks for all your hard working
09/17/2020
Anonymous
United States
No more sore or itchy scalp
I look forward to Monday because thats the day I wash my hair i look forward to the way the products Stimulate my scalp also my has come along way very Satisfied
09/16/2020
Anonymous
United States
African Black Soap Hair Growth Shampoo, Oil and Conditioner Set
I love- love- love this set! I was diagnosed with CCCA years ago and went through the shots/medication for almost two years until I just couldn't do it anymore. There was some stubble, slowly growing in, so I knew there was hope. I came across your youtube by accident (or was it divine intervention??), and you were talking about your products, CCCA, and experiences that others were going through and I listened and read the reviews and decided to give this a try. I ordered the shampoo, oil and conditioner set. I saw your Listerine treatment on youtube as well, and I did the treatment while waiting for my order and it worked! No more tingling. The shampoo is wonderful, and it lathers up nicely for me.The conditioner feels really good on my hair and scalp. The only thing about the conditioner, there were no instructions on how long to leave it in my hair before rinsing, so I leave in for about 3 - 5 min then rinse. Love the oil.. a little goes a long way. The combined set leaves my hair soft and my scalp just feeling so good. Too soon to notice a significant growth, but I have faith the size of a mustard seed. Thank you Charmaine. I will continue to use and recommend this to others.
09/16/2020
Tabitha W.
United States
Excellent!!!
I love the trio! I've been using it for a month now and have noticeable growth in the ccca areas already!!
09/13/2020
Joyce A.
United States
Trio set
I have been using this for about a month now. Its a slow process but I have patience. I'm hoping for some type of growth. I also take the pumpkin seed oil pills and biotin.
09/03/2020
Yolanda D.
United States
A new me
I love the smell and how soft cut made my hair. I have CCCA and as of yesterday 9/1/2020 I Decided that I would give my hair a breather and not wear my wigs. I will use these product every week to wash and condition my hair and use the hair growth oil 3 to 4 times a week till the end of 2020 and see what my results are. I will wear a head wrap when I go out. I am excited to see the results.
08/29/2020
Shanayah B.
United States
Honest review
I like how it smells. It's like applying a massage to my head. I'm using it for my alopecia but I also use it on my boyfriend hair. He says his hair is growing. I am using it but it might take more time to be affective on me
08/29/2020
Cheryl N.
United States
Love them
Just started using these products. I've only used the shampoo and conditioner once but I love them. The peppermint is very strong and the shampoo seems to do a great job of cleansing my scalp. I will try to post some pics when I've used the products a little more but so far I'm pleased.
08/28/2020
Anonymous
United States
08/27/2020
Anonymous
United States
Trio Set
I love all the Trio's products especially,the tingling sensation after applying the Hair Growth Conditioner. I honestly enjoy my hair wash day.
08/20/2020
Anonymous
United States
Great
This product has made a big different in my hair grow haven't see much different in the ball area but my hair overall feels health because from I started using this product my hair is free from the itching and burning, and I really love the feeling on my scalp after using..back home where I'm from in Jamaica I would say my head feels light, feels really good .. looking forward to order again soon God bless you miss chamaine been looking for something to help me with my inflame Scalp for some years now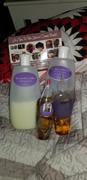 08/20/2020
Tersena B.
United States
It Works Good
My scalp feels refreshed and clean!!