Men's Trio: Shampoo, Conditioner, Organic Hair Growth Oil
Description
Hey Fellas, We have Something for you too!  Grow your Hair and your Beards with the Men's Trio Set.  
It has the light cologne fragrance  (a Halal Fragrance), in the  Men's Raw African Black Soap Hair Growth Shampoo, Men's Hair Growth Conditioner, and The Organic Hair Growth Oil.
Directions: Shampoo and Condition Weekly With the Men's Raw African Black Soap Shampoo and Men's Hair Growth Conditioner. Apply the Organic Hair Growth Oil to Scalp 3-4 times per week.
Customer Reviews
Write a Review
Ask a Question
Filter Reviews:
hair
scalp
products
conditioner
trio
shampoo
problem
change
scalp cream
others
03/27/2021
Kenyette G.

United States
I recommend this product
Amazing Products:)
I originally purchased the Men's Trio for my boyfriend but used it myself and even on my sons! It really CLEANS our hair and makes it soooo SOFT!! I will definitely purchase again:)
03/20/2021
Derek D.

United States
I recommend this product
Men's Trio
So far I am loving it. I've been using it for about a month or maybe 3 weeks and my hair feels a lot softer
02/01/2021
Anonymous

United States
I recommend this product
Really Works!!
Good stuff, these products really work, all of my hair issues have been solved in less than a few weeks, thank you, and I recommend. 5 stars
07/26/2020
Jethro A.

United States
I recommend this product
It ACTUALLY WORKS!!
So in the month of feb I notice my hair wasn't growing at the crown area. So I went to the dermatologist and got my scalp checked out, they cut a small piece of my scalp to test what type of alopecia I had. I tested for folliculitis. So for the first month I made own hair oil with black castor oil, coconut oil, and peppermint oil(basically I tried to replicate her oil).It helped a bit but I felt that my hair wasn't growing fast. So in the beginning month of April I tried her listerine/apple cider vinegar method and it worked perfectly. It cooled my hair, brought swelling the swelling, and my felt like it take a nice breath of fresh air. While I was doing this method I used her folliculitis ointmentYou can see the growth in the may 10th photo). Then in June I bought her hair shampoo and conditioner trio. It really helped my hair felt clean and the conditioner felt like a cool pulsing feeling(most likely the peppermint effect) and it made my hair smooth and soft. The only problem I had was that the shampoo isn't thick enough it's like water and it didn't lavder up as much i had to use a lot shampoo to get that good soapy texture. But overall this **** works! Pros: It works, it's not a scheme, but always be skeptical Cons: Shampoo needs to be a bit thicker, it's too liquidy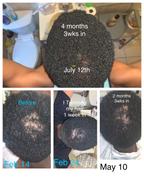 06/17/2020
Jethro

United States
We gonna see if the stories are true
Package just came today, it didn't come with the cologne btw. But I got no problem with it I'll come back in a month to give results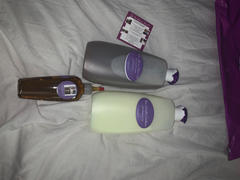 06/18/2020
BlackHairandSkinCare.com
Hello the Men's Trio does not come with cologne it comes with the Scent inside of the shampoo and conditioner. The information is on the website and under the description
Where do I Start
The Hair Growth Oil is marvelous, completely felt like my scalp was moisturized after being applied which is a relief considering other products dry my scalp out.  The Raw African Black Soap shampoo, leaves my hair feeling fresh, clean and smelling good. Upon washing, the lather is outstanding. Lathers better than a lot of products I've used in the past.  The Hair Growth conditioner is very relaxing, after I wash it out it feels as if my scalp has been dry cleaned.
04/24/2020
Lamar T.

United States
Loving these products
Charmaine, I can't thank you enough! I purchased the trio, the scalp cream, and the anti bacterial scalp ointment. I had all but given up hope and had been wearing a shaved head for the longest. After watching your YouTube videos I learned so much about a more efficient approach- targeting inflammation of the scalp with natural oils and I am sold! I also purchased the Living Silica, Pumpkin seed oil, saw palmetto, and biotin and during the quarantine I have been letting my hair grow and using your products consistently. I can already see a change in the texture of my scalp and hairs growing in. Looking forward to, and documenting my progress these next few months. I'll be sure to keep you updated. I want to say this, I am a Personal Trainer with a passion for what I do for a living. I feel like I often can recognize the same passion in others. It was your information and the passion you have for your cause that initially drew me to your products. I am very thankful for you!
02/24/2020
Anonymous

United Kingdom
Very good
My overall experience with this product is that it does work but everything takes time and hopefully my hair will grow more as.time go by
12/09/2019
Ronald P.

United States
Feedback
I use these products regularly almost daily. The shampoo leaves my hair squeaky clean. The conditioner leaves my hair soft and relaxed. The growth leaves my hair shining.and smelling great. My hair lays down as if I used a relaxer. However, my hair appears to be thinning as opposed to thickening and growing. My Alopecia Areata is unchanged though not spreading... I"m taking daily, Pumpkin Seed Oil capsules 2 times, Maca Root, Super Collagen Peptides. I eat pumpkin seeds and almonds daily.I"M drinking onion juice, ginger, and pomegranate weekly.. I am considering applying pumpkin seed oil. coconut oil, Sal palmetto powder along with rosemary oil.to my Alopecia Areata area.to stimulate some growth activity.. Your customer Ronald Pettaway.
11/02/2019
LeRoi J.

United States
excellent ~
fantastic! love the way it makes my hair feel and smells. it is easy to use and it has a tingling feeling that is very pleasant. i am very please with this product and will be recommending it to my family/friends.
New Customer
Just bought this product a week ago. So far I like how natural and nice the product feels on my scalp will a another review later
So far so good
Im still using it, but I can tell a HUGE difference in the way my hair retains moisture, and my scalp doesn't itch as much either. Hair is getting fuller, but waiting a few more weeks so I can REALLY see growth. This is why I gave it 4 stars - I guess I expected something else or an extra product with the men's trio, it's just the oil, shampoo, and conditioner. It's got a very light frangrance. While it is enjoyable, I probably would have save 5 bucks and just bought the regular set.
03/01/2019
BlackHairandSkinCare.com
Thank you for your honest review ♥️