Men's Trio: African Black Soap Hair Growth Shampoo, Hair Growth Conditioner, Organic Hair Growth Oil
Description
Hey Fellas, We have Something for you too!  Grow your Hair and your Beards with the Men's Trio Set.  
It has the light cologne fragrance  (an Halal/Kosher Fragrance), in the  Men's Raw African Black Soap Hair Growth Shampoo, Men's Hair Growth Conditioner.
Directions: Shampoo and Condition Weekly With the Men's Raw African Black Soap Shampoo and Men's Hair Growth Conditioner. Apply the Organic Hair Growth Oil to Scalp 3-4 times per week.
Shelf Life For Optimal Results:
Men's Raw African Black Soap Hair Growth Shampoo: 3 Months
Men's Raw African Black Soap Hair Growth Conditioner: 6 months
Men's Organic Hair Growth Oil: 2 months 
Check Out Other Products for the Fellas here👈🏾
Customer Reviews
Write a Review
Ask a Question
Filter Reviews:
hair
scalp
products
conditioner
trio
shampoo
problem
change
scalp cream
others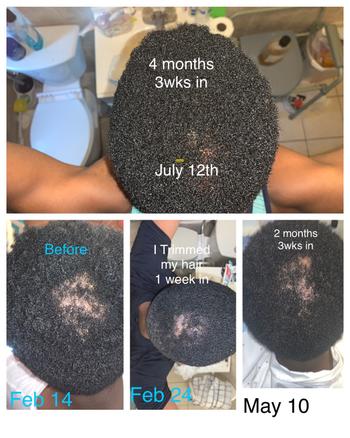 07/26/2020
I recommend this product
It ACTUALLY WORKS!!
So in the month of feb I notice my hair wasn't growing at the crown area. So I went to the dermatologist and got my scalp checked out, they cut a small piece of my scalp to test what type of alopecia I had. I tested for folliculitis. So for the first month I made own hair oil with black castor oil, coconut oil, and peppermint oil(basically I tried to replicate her oil).It helped a bit but I felt that my hair wasn't growing fast. So in the beginning month of April I tried her listerine/apple cider vinegar method and it worked perfectly. It cooled my hair, brought swelling the swelling, and my felt like it take a nice breath of fresh air. While I was doing this method I used her folliculitis ointmentYou can see the growth in the may 10th photo). Then in June I bought her hair shampoo and conditioner trio. It really helped my hair felt clean and the conditioner felt like a cool pulsing feeling(most likely the peppermint effect) and it made my hair smooth and soft. The only problem I had was that the shampoo isn't thick enough it's like water and it didn't lavder up as much i had to use a lot shampoo to get that good soapy texture. But overall this **** works! Pros: It works, it's not a scheme, but always be skeptical Cons: Shampoo needs to be a bit thicker, it's too liquidy
Jethro A.

United States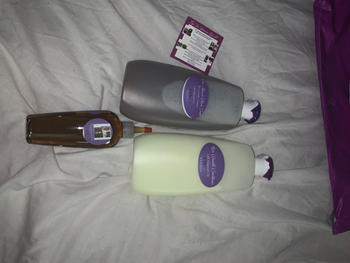 06/17/2020
We gonna see if the stories are true
Package just came today, it didn't come with the cologne btw. But I got no problem with it I'll come back in a month to give results
Jethro

United States
06/18/2020
BlackHairandSkinCare.com
Hello the Men's Trio does not come with cologne it comes with the Scent inside of the shampoo and conditioner. The information is on the website and under the description
03/27/2021
Amazing Products:)
I originally purchased the Men's Trio for my boyfriend but used it myself and even on my sons! It really CLEANS our hair and makes it soooo SOFT!! I will definitely purchase again:)
Kenyette G.

United States
03/20/2021
Men's Trio
So far I am loving it. I've been using it for about a month or maybe 3 weeks and my hair feels a lot softer
Derek D.

United States
02/01/2021
Really Works!!
Good stuff, these products really work, all of my hair issues have been solved in less than a few weeks, thank you, and I recommend. 5 stars
Anonymous

United States