Extra Virgin Organic Pumpkin Seed Oil
is a greenish oil which also contains zinc and magnesium, which are two essential minerals for hair and skin care. Zinc not only thickens hair, it speeds the growth. It also contains Vitamin A, E and K and four fatty acids including the omega-6
I tell my Clients also to use this oil to fight inflammation on the inside of the body which also leads to Hair loss. Taken enternally, it also stops the itching and burning feeling that some of us feel on our scalps when it is inflamed.
Each Table spoon/ Doppler contains 1,000 mg
Take 1 -2 Doppler fills per day By Mouth/Orally. Or 1-2 tablespoons per day.
Shelf Life: 6 months (For Optimal results)
Related Products
---
Customer Reviews
Write a Review
Ask a Question
Filter Reviews:
pumpkin seed oil
bottle
hair growth
hair
experience
scalp
Charmaine
scalp cream
itching
inflammation
01/11/2021
Anonymous
United States
I recommend this product
Oil
I love this oil. Takes down inflammation and promotes growth. I've ordered several times.
12/31/2020
Gloria S.
United States
I recommend this product
PUMPKIN SEED OIL
I like the product and will order more. However, I am having trouble finding pumpkin seeds that have not been through a tree nut factory, or dipped in peanut oil. I have tree nut allergies and I am looking for PS roasted and salted without going through the above. I also, tried MSM several times and I am allergic to the suffer, swells my throat. Can you recommend something else that works as fast for hair growth and where to find good roasted and salted pumpkin seeds have not been exposed or through a tree nut factory machines. I do like most of your products. Thank you
12/25/2020
Anonymous
United States
I love it
I love the glow of my skin
12/10/2020
Anonymous
United States
Pumpkin seed oil
This is my second time purchasing. I love this oil! I can definitely say I've seen some new growth.
11/28/2020
Anonymous
United States
Terrific Product
Great taste. Easy to take
11/17/2020
Alicia
United States
❤️
I take this in addition with my biotin drops. I will say the regular flavor is not the best tasting thing, but I figured the regular would do the job better than a flavored one.
11/14/2020
Senta
United States
All the products are good
Yes I recommend these products I have used the pumpkin seed oil and hair growth oil and the holistic scalp cream I love all the products
11/13/2020
Deborah H.
United States
Organic Pumpkin Seed Oil
Overall experience was good. I like the pumpkin seed oil in chocolate flavor but for me...after shaking the product up thoroughly, there seem to be more chocolate than oil in the bottle. Would like to see a slightly larger bottle for the price because shipping cost is a little costly. Overall, if I order again, will order just the plain pumpkin seed oil. Product is good quality. I also have the Swanson pumpkin seed pills I take in case I do not have the funds for the other. Thank you, Charmaine- your products are awesome.
08/29/2020
Cheryl N.
United States
Good stuff
My only issue it that I wish it was a bigger bottle. Based on the dosage, it last me about 4 days. Otherwise, I have no complaints.
08/27/2020
Tina D.
United States
Good So Far
This is very mild and I just started taking it so I can update later. Thanks
08/27/2020
Anonymous
United States
Pumpkin Seed Oil
I purchased the Pumpkin Seed Oil and was very surprised of its immediately effects with my inflammation. My inside felt amazing(not bloated after eating). Thank you very much for introducing me to your Pumpkin Seed Oil.
08/20/2020
Tersena B.
United States
Healthy Oil!
I take two teaspoons everyday and I must say I felt great!
07/12/2020
Allan N. Ragsdale
United States
Pumpkin Seed Oil Review
Great product. Tastes great. It just comes in a 2 oz bottle, so it get used up fast and I constantly have to order more (I prefer the oil to the pills). Just wish it came in a bigger bottle:
07/10/2020
Marcus T.
United States
Fantastic
My experience witjnusing this oil was awesome. Not only does it taste good, but upon consumption, my itching stopped and I was seeing new growth as the weeks went by. I just finished my 3rd bottle and will be ordering more along with the pumpkin seed oil since I'm almost out. I shaved my locs off after 5 years last tuesday after using the trio, oil, scalp cream, bioten ect my hair grew back faster only after a week. I will be shaving tmr for a wedding and then begin the regrowth process. Charmaine, thank you love!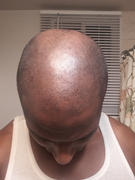 07/10/2020
Shante J.
United States
Good stuff
Feel so good on my scalp. Can't wait to see results
07/06/2020
Anonymous
United Kingdom
Extra ****** Organic Pumpkin Seed Oil
I told this daily to help with my hair journey and believed that in order to see progress I had to start not only on the outside, but also the inside. I remember my grandma saying anything bitter is good for you. Hopefully they can do a larger bottle